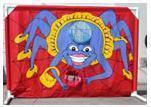 Frame Game - Spider

Actual Size: 4'x6'

Outlets: n/a

Age Group: For everyone
Fun, colorful, and creative, this spider-themed toss game is sure to brighten up and draw attention to an area!
The game involves throwing 3 giant, realistic looking insects at the spider sitting in her web. The challenge is to land the insects into the hole to win. Since 1player is typically given 3 chances to throw an insect, 3 different prizes or prize levels, are sugested for this game.
(Level 1 prize "Winner" = 1insect in the web. Level 2 prize "Winner" = 2 insects in the web. Level 3 Grand Prize = 3 insects in the web)
Suggested especially for children, but fun for everyone!
Great for Trade Shows, Promotions, Midway theme events, Fall Festivals, Insect theme parties or anywhere you might want to attract attention and have people stick around for some spider friendly fun!